Challenges are added to the All New Triib Mobile App!
Do want your members to record their score on a workout, while also being able to toggle points for how many hours of the sleep they got last night? Say no more!
Triib Challenges are perfect for running a nutrition challenge with your members with daily, or completion based goals.
Triib Challenges overview:
Users will now see basic stats on the challenge details page for themselves - Current Rank | Total Points | Days Left in the challenge

Users will be able to tap on each of the stats to dive into them for a more in depth look

Current Rank - Will bring users to the ranking board where they can like & comment on other competitors rank.

Total Points - Will bring the the user to an overview pop-up screen where the user can see where all of their points are accumulated from, as well as their overall progress for each part of the challenge.

Days Left - Will bring users to a similar "Agenda" view where they can swipe or navigate using the calendar between each day of their event to see how they performed each day as well as utilize this screen to make updates to their current day's recorded results.




Want to see how TRIIB can help you run your business? Book a demo.
Previous updates:
---
Update January 3rd, 2020
STATUS UPDATE
UPDATE: iOS app - Submitted to the Apple App Store! Launch expected January 4th-6th, 2020
DETAILS: The app has been submitted to the Apple App Store for approval. That process can take up to three days so we expect an official launch this weekend, January 4th or January 5th or Monday at the latest.
FEATURE HIGHLIGHT - USER LOG-IN
First impressions are everything. That's why we made sure not to overlook one of the most critical functions inside the app, the user login. When done well, it should be an afterthought to users so we designed it with simplicity and speed in mind.
FAST LOGINS
Quickly and easily speed through the login screen to access your account. Auto-saving credentials mean even faster access for the next time.
RESET PASSWORDS
We do it. You do it. It happens. User-friendly reset emails confirm your identity and get you back up and running in no time.
Update December 27th, 2019
STATUS UPDATE
UPDATE: iOS app ON TRACK - December 31st 2019
DETAILS: The app launch is only a few days away! It's being submitted in the next few days then will go to Apple for approval. We're expecting an official deployment on December 31st. We're so excited to share this new innovation with you!
Note: We will have additional info ahead of the release covering the app adoption, getting members to upgrade to the new version, along with relevant help center content!
Update December 20th, 2019
STATUS UPDATE
UPDATE: iOS app ON TRACK - December 28th-31st 2019
DETAILS: To ensure a smooth release, we are using a phased rollout. We'll be launching the iOS version of the Triib App by the end of December. We'll be launching the Android version this winter, more details will follow. After initial launch the versions will be released simultaneously.
FEATURE HIGHLIGHT - WORKOUT BUILDER
This brand new tool allows staff/admins to easily create and post workouts using a drag & drop style builder.
DRAG & DROP BUILDING
Quickly and easily organize content in the layout you want using drag & drop modules.
CONTENT POSTING
Make announcements, add instructional visuals, or just keep it fun with in-app video viewing and support for images or text.
CREATE & CUSTOMIZE
Both members and staff can create their own workouts or pull and repeat workouts from the past. Quick tagging of movements allows everyone to track performance overtime along with, all-time gym rankings, benchmark workouts, and personal records.
Update December 13th, 2019
STATUS UPDATE
The Mobile App release is: ON TRACK - Late December 2019.
FEATURE HIGHLIGHT - CALENDAR
This is a brand new addition and will give users the ability to quickly & easily navigate to specific dates as well as see a visual history of activity such as:
WORKOUT LOG VIEW
Members can see visual indicators for a workout logged by day, represented by a green dot.
ATTENDANCE LOG VIEW
Members can see visual indicators for a class attendance logged by day, represented by a blue dot.
EASY NAVIGATION
Quickly move to desired dates to see upcoming class schedules or events. View your tracked attendances and workouts.
Update December 6th, 2019
STATUS UPDATE
The Mobile App release is: ON TRACK - Late December 2019.
FEATURE HIGHLIGHT - MEMBER SETTINGS
PROFILE PIC
Members can update their own profile image, easily, right from their phone. As a bonus, a staff member can also snap and upload a new member's first profile picture and upload it to their account. (first upload only)
SET & EDIT PIN
Forgot your PIN? Same. Access it quickly right from the app or update it as needed.
EASY BILLING UPDATES & HISTORY
Members can now make payment information updates right from the app for smooth, seamless switchover to a new debit/ credit card. They can also access their latest invoice history.
NOTIFICATION CONTROLS
Communicate with members as much (or as little) as they want. Personalizing notifications and alerts tailors the experience of your business to the members communication style.
People get informed with the right information at the right time!
Update November 29th, 2019
STATUS UPDATE
The Mobile App release is: ON TRACK - December 2019. As we get closer, the launch window begins to take shape! We're looking at dates in late December.
FEATURE HIGHLIGHT - WORKOUT DISPLAY
IMAGES
You will be able to be posted inside of workout/announcement sections.
VIDEO
This brand new feature will allow you to post videos that can be watched natively in the app. Entertain and educate your members before they head into a workout or use video to communicate key happenings at your location. Videos will key off any youtube or vimeo link so set up a free account you can post from if you don't have one already!
WORKOUT DISPLAY
Lots of customizations here. Edit workout type, scoring style and description. As you can currently, control the order of each section that a user sees. This helps when you want to have an 'Announcements' or 'Coaches Notes' section first.
Update November 22nd, 2019
STATUS UPDATE
The Mobile App release is: ON TRACK - December 2019..
FEATURE HIGHLIGHT - CLASS FEED
LIKING & COMMENTING
Encourage members and allow your community to thrive with every completed workout.
CELEBRATE ACHIEVEMENTS
Celebrate personal records or key achievements. Stay connected and engage your membership inside & outside your gym.
PRIVACY SETTINGS
Settings for privacy allow members to control their experience with ease.

Update November 15th, 2019
STATUS UPDATE
The Mobile App release has been updated to reflect the new expected launch timeframe: December 2019.
FEATURE HIGHLIGHT - MEMBER RSVP, CHECK-IN & SCHEDULING
MEMBER RSVP & CHECK-IN
This straight forward usage performs the way you would expect.
MEMBER SCHEDULING & AGENDA
In the video below, you can see how a member would quickly & easily see the schedule for the week, select and reserve a class, and then have that class added to their personal agenda page.
The personal agenda page will be the first page seen upon log-in (if they have an upcoming class or event).
MEMBER CLASS PAGE VIEW
While absent from the video highlight, the below image calls out all the customizations and class-level changes you can make to really make your business come to life, making your class and coaches central to your member experience!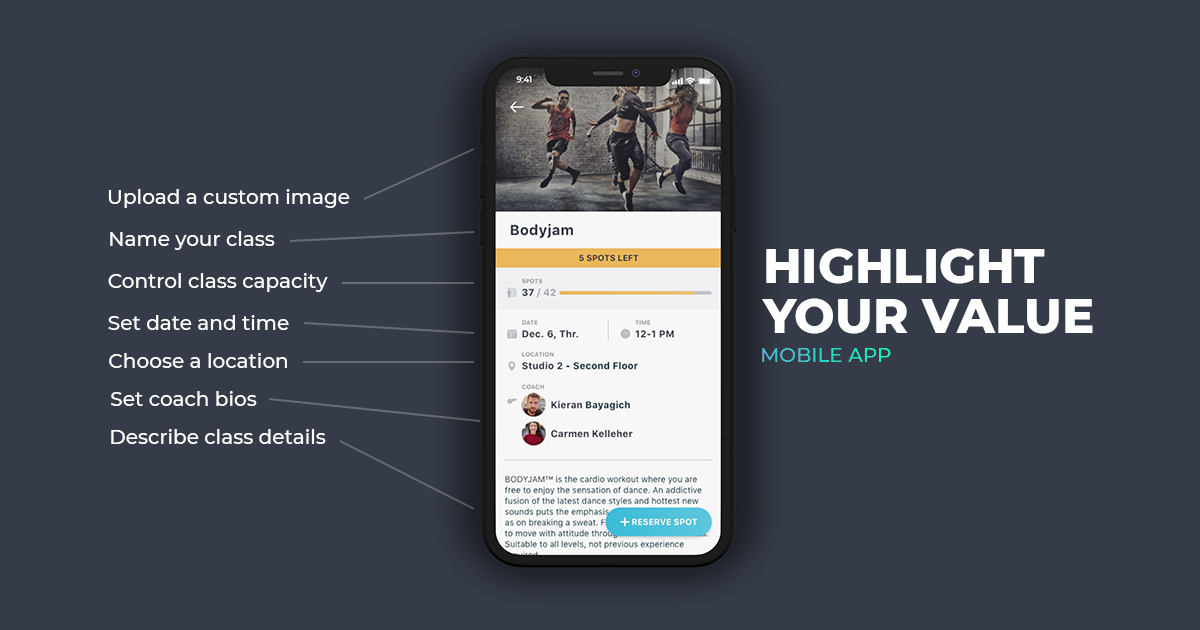 Hope you enjoyed this first update. We'll have many more on the way.
Actually we'll have a new one EVERY WEEK leading up to the launch so stay tuned!
WANT TO GET UPDATES FASTER?
If you're already a Triib partner, we encourage you to join our Facebook User Community. We post almost all news there FIRST, sometimes in real-time. Stay in the know and join here if you haven't yet.
As always, shoot us a message with any feedback or questions at support@triib.com!
Submit a Comment
Your email address will not be published. Required fields are marked *