Triib Appointments brings appointment booking software capabilities into our all-in-one gym management platform. Now fitness professionals and gym owners can customize, schedule, and share services that require 1-on-1 appointment booking. Get ready to unlock more opportunities for your business to generate revenue and easier ways for your customers to get onto your calendar.
We've outlined a brief overview below of what this new booking software looks like inside of Triib. First, lets revisit how we define appointment booking, which we covered further in our announcement blog post.
What Is Appointment Booking?
Appointment booking allows a user, staff, or admin to book an individual appointment according to a customized availability calendar.
Now let's take a look at what Triib customers (Standard, Premium) get for NO ADDITIONAL COST as part of their regular monthly gym management platform cost.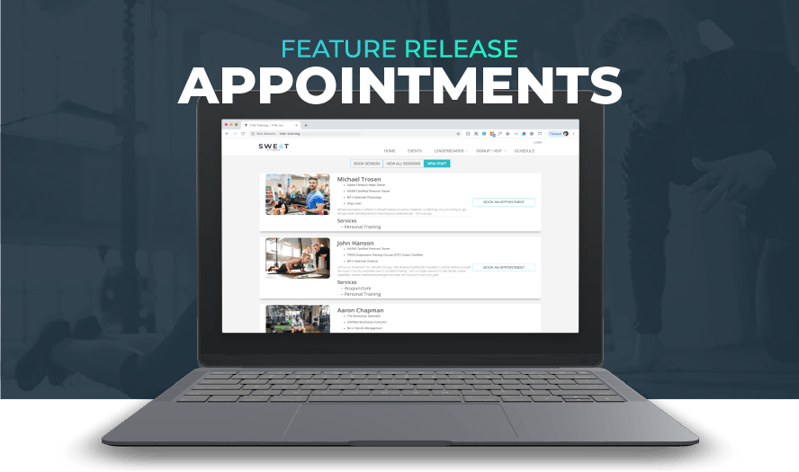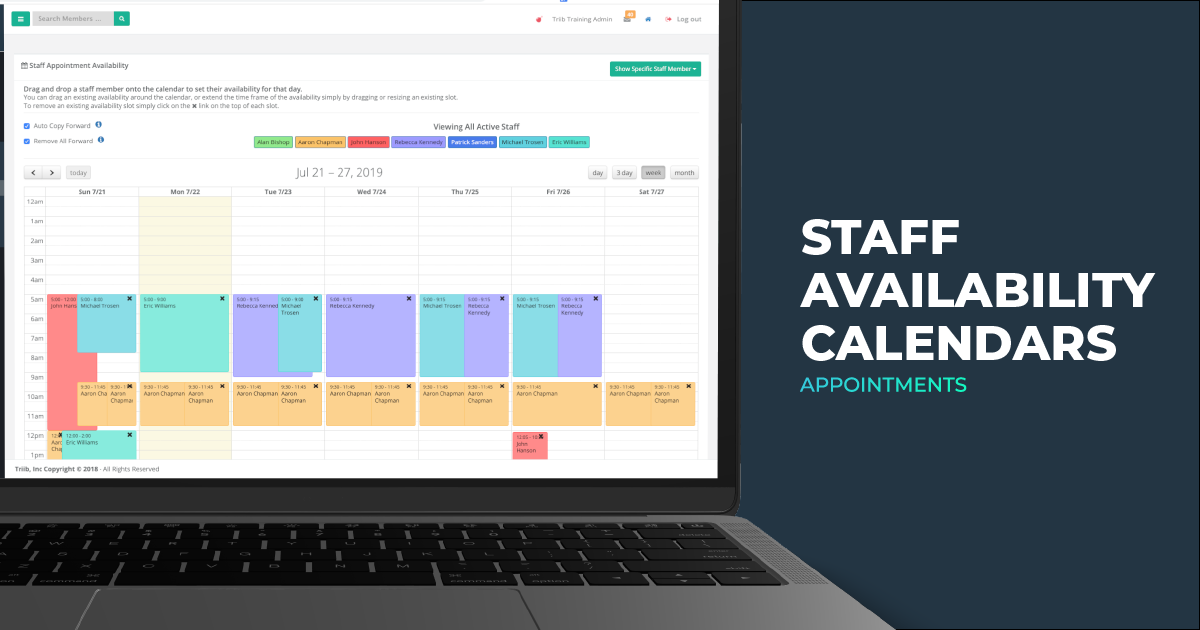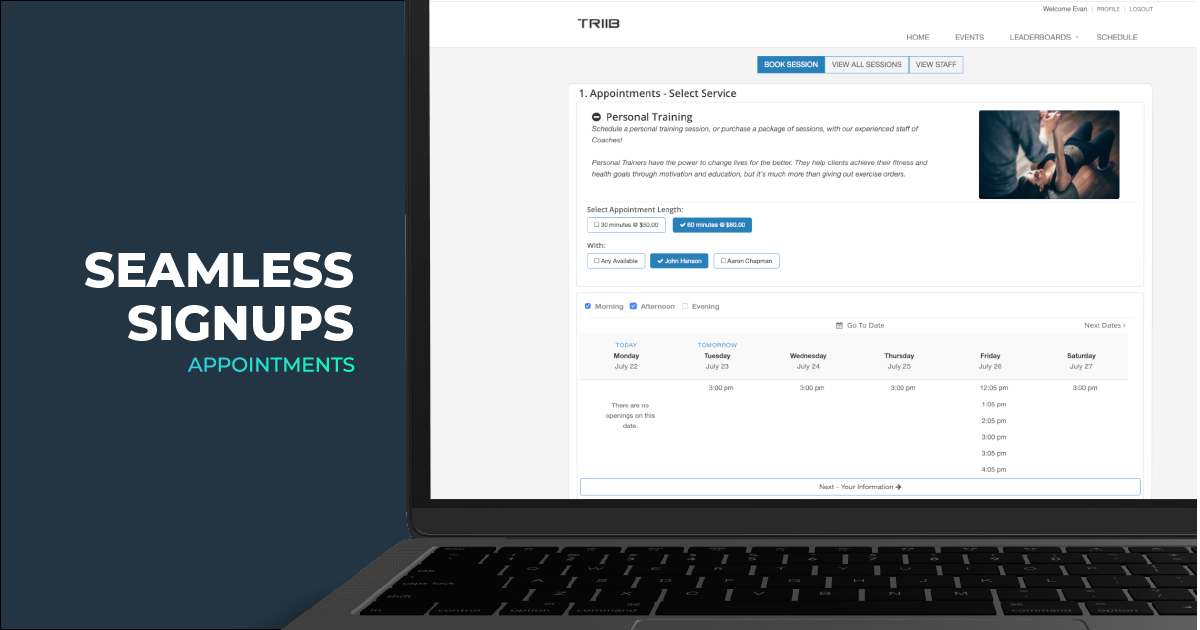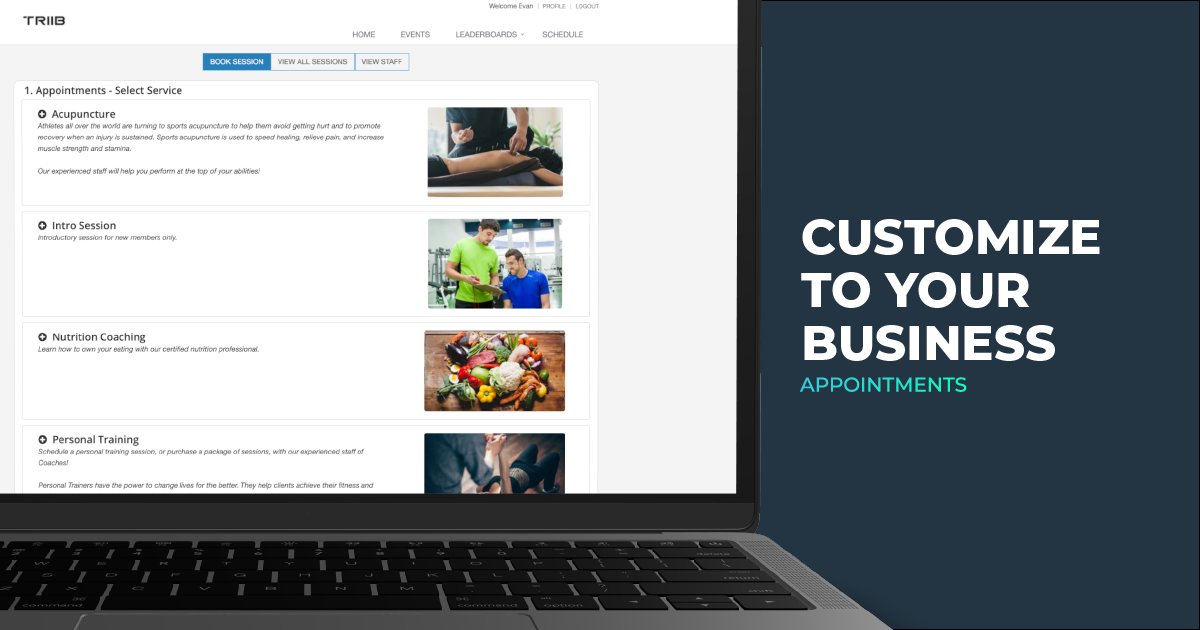 The Two Core Business Benefits:
The ability to generate new revenue streams.
The clarity & cost savings of consolidating existing operations under one all-in-one platform.
NEW REVENUE STREAMS
Some gym owners are shifting to a Personal Training(PT) first model, while others are ramping up their businesses by being less dependent on recurring class revenue. This powerful new tool will allow you to explore what works best for your business and give you more ways to deliver value to your members.
You will now be able to offer all of the following from within your Triib platform:
PERSONAL TRAINING

NUTRITION COACHING

1-ON-1 PROSPECT CONSULTATIONS

FITNESS EVALUATION SESSIONS

RESOURCE RESERVATION (CRYO CHAMBERS, TANNING BEDS, ETC)

PLUS MORE!
CLARITY OF CONSOLIDATION
If you're already offering personal coaching or similar appointments through external platforms (other than Triib), you can now bring that segment of your business back under one platform, simplifying the reporting and creating a MUCH better member experience.
Ultimately, this can act as a cost-saver on your overhead while improving your understanding of which appointments/staff members are driving your business forward.
Major Features
Let's look at the three major features inside appointment booking in Triib.
1. SEAMLESS MEMBER SIGNUPS
Here's how quick and easy the signup experience is from the user's view (prospect or member):

This shows the self-booking experience of a prospect or member selecting an 'Intro Session' and then an appointment length. A staff member and time is then selected and the user is brought to a standard form and waiver review to finalize the booking.
After this, confirmation notifications are sent and the availability calendar for the selected staff will auto-update!
2. STAFF AVAILABILITY CALENDARS
Admins and staff can use the drag and drop availability calendar to set when they are available for bookings. This syncs dynamically with the member-side booking so users will only book into appointments that fit with your schedule!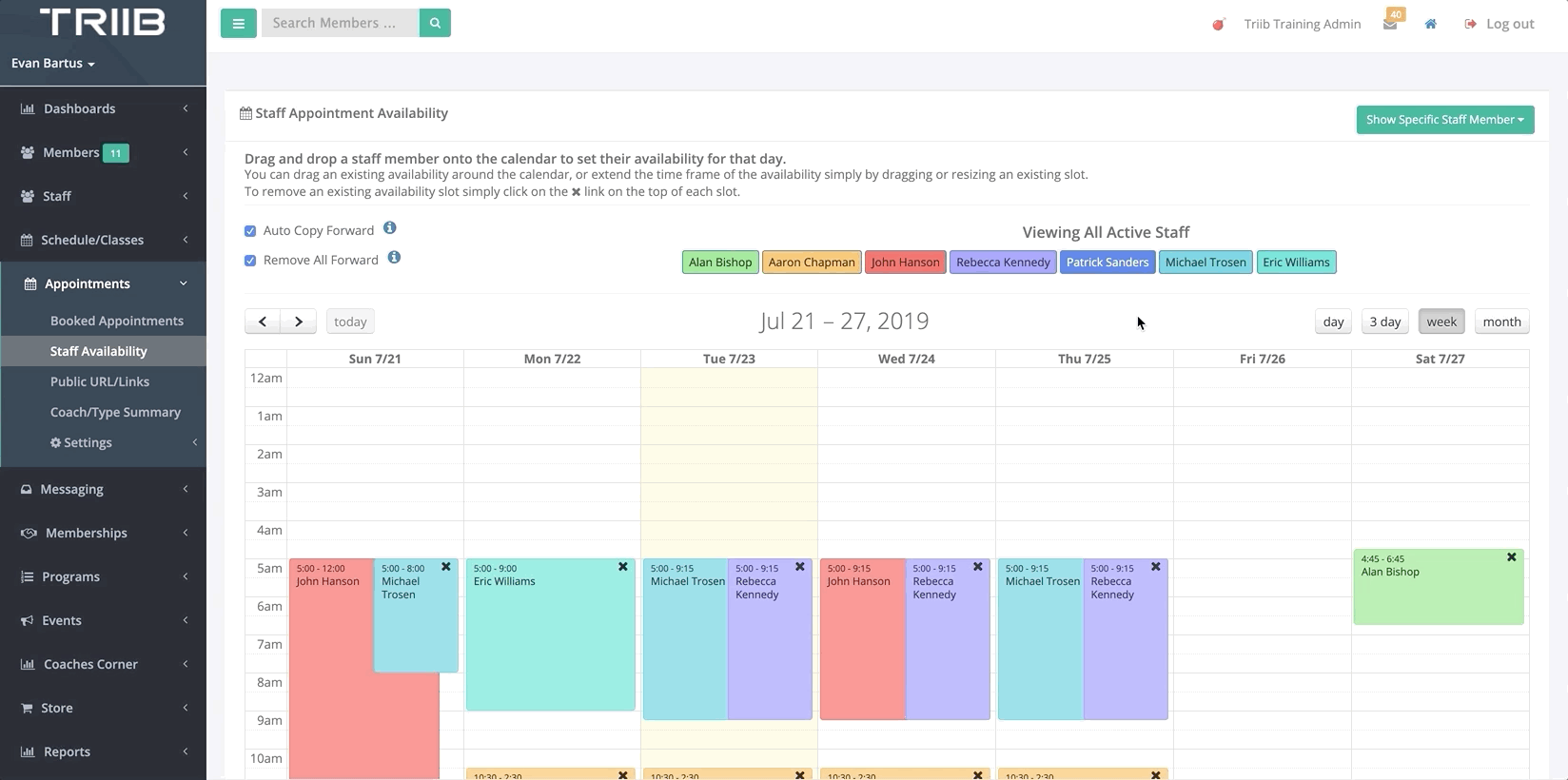 3. COMPLETE CUSTOMIZATION
Triib Appointments was designed with tons of easy-to-use settings that will allow you to customize appointment bookings to how (and when) your team works. Here are some examples of customizations you can expect:
AVAILABILITY CALENDARS
Staff can set their individual availability for members to book into. Share specific links on social media and direct prospects to a certain calendar or appointment type!
CUSTOM TYPES & PRICING
Set multiple appointment types, price points and durations.
PAY RATES BY STAFF
Custom pay rates by staff and appointment.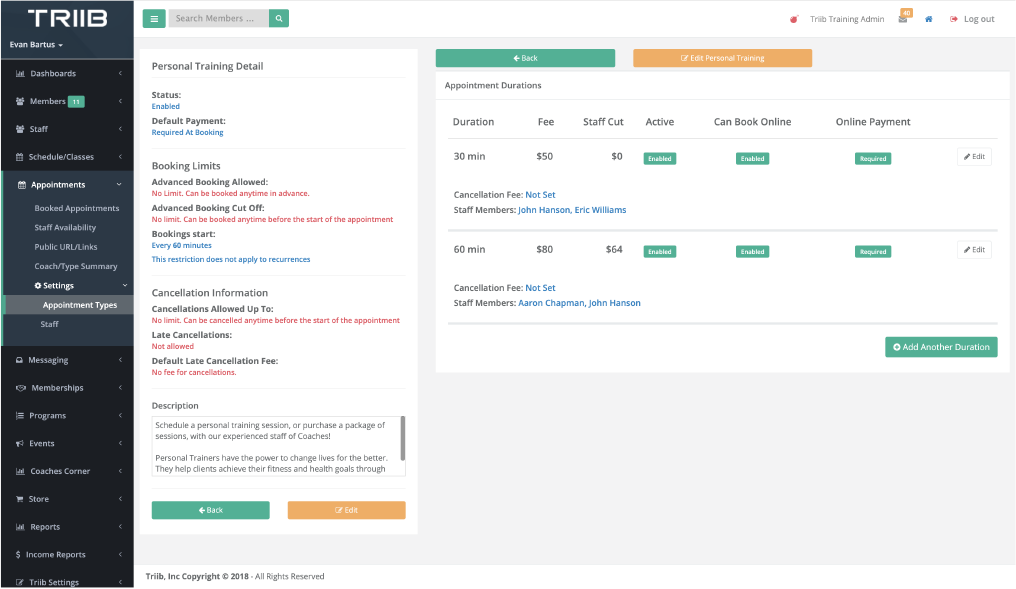 NOTIFICATIONS & RESTRICTIONS
Set member cancellation restrictions along with confirmation and reminder notifications.
SET PAYMENT POLICY
Set when payment is due (at booking or at time of appointment).
STAFF & APPOINTMENT DETAILS
Build out your bookings by adding staff photos and descriptions to appointment types and staff profiles.
We're so excited to bring appointments to Triib and to help you build the best fitness business possible.
Existing Triib Customer?
If you're already a partner, you can find helpful resources on how to set up and maximize your appointment booking software by visiting the help center, here.
As always, shoot us a message with any feedback or questions at support@triib.com!
Submit a Comment
Your email address will not be published. Required fields are marked *