The tides are changing.
We've reached a new phase of this global pandemic.
We're starting to see gyms reopen. We're seeing the fitness industry shift back to in-person training. It sort of feels like the global "off-switch" has been switched back to the "on" position.
Depending on where your gym is located, you could be already open. Or maybe you're about to get the green light to reopen your business very soon.
And while this is what several gym owners are waiting for, we want to know if you've thoroughly thought through what it means to reopen your business in this starkly different landscape.
Here at Triib, we sat down with Stu Brauer of WTF Gym Talk and Jason Khalipa of NCFIT to discuss all things related to your reopen and devise a simple plan you can follow to reopen.
In this supremely informative (and often laugh-out-loud funny) Gym Reopening Playbook webinar, we candidly talk to Stu and Jason about how they're approaching this reopen. They offer up invaluable insight to boutique gym owners on how to navigate the upcoming days, weeks, and months.
We break this discussion down into three phases:
In each topic, we discuss some of the most important questions that gym owners should be asking themselves right now. Stu and Jason also share what they're doing in their businesses, with the hopes of offering some guidance to fellow owners. Lets dive in.

Can You Legally Reopen Your Gym?
Jason says that the first thing to do is get all the details from your state and local governments about when you're allowed to reopen. He shared that some gym owners are fed up with waiting, and have decided to operate regardless of the governmental restrictions. Jason clearly states that he doesn't have all the answers, and that he's not chastising gym owners for opening early, but that he's in no rush to open his doors.
What's My Appetite For Risk?
Jason's contention is that if he opens prior to the government giving him the green light, he's risking a lot more than just waiting until he gets the legal go-ahead: "Let's just say that someone comes in, and God forbid, they contract Covid, or they break their back, or whatever happens...Because we weren't open legally, I'm afraid that insurance won't cover us." That's a risk that Jason Khalipa just isn't willing to take.
Takeaway: Check with your insurance provider to get a full understanding of your coverage and your risk as a business.
The Benefit Of Waiting Patiently
Stu Brauer agrees. He wants to "be insync with the rest of my business ecosystem." The way he sees it, there's very little to gain—and a lot more to lose—from opening any earlier than is legally allowed.
He's also not interested in "sprinting to a traffic jam." He wants to be behind the wave so he can get a good idea of what the new landscape looks like and what the pitfalls are. He wants to watch and learn. So even when his government says that he can legally reopen (at a new limited capacity), he's going to wait at least two weeks before opening his doors.
Takeaway: Don't rush to open. And maybe even wait a few days/weeks after you get the green light for your reopen so you can learn from the successes and mistakes of other businesses.
Should You Reopen Your Gym?
Once you determine if you can legally reopen (and whether or not you're going to adhere to the policies of your local and state governments), you've got to decide if you should reopen.
Renegotiating Rent
Jason says that before you even think about opening your doors, you've got to have a conversation with your landlord. Now that your gym is at limited capacity, your revenue is most certainly going to be less. What you could earn before is not what you can earn now, and your rent has to reflect that new reality.
Luckily, Jason thinks that most landlords will be willing to renegotiate rent, because "who else are they gonna put in there?" The landlord is likely going to want to keep you in your space, even if it means they take a financial hit.
But Jason reminds us that in order for this negotiation to go well, we need to come prepared. He advises us to set up a meeting with our landlords and go in with "max ammunition."
He believes if we show up with everything we've got (the requirements set by the state for occupancy, our profit and loss statements, our new revenue projections, etc.) then we're in a good position to negotiate.
Just make sure, Jason shares, that this conversation happens before you reopen—you lose major negotiating power if you try to negotiate a new number after you've already opened your business.
Takeaway: For now, your revenue will be less due to restricted operational capacities. Talk to your landlord before you reopen about lowering the rent based on this new reality.
Reasons Not To Open
Stu warns gym owners not to hurry up and open out of fear. He's heard of owners rushing to open faster than their competitors so that they don't lose their clients to a gym that opened earlier than they did. Stu thinks this is nonsense. He doesn't believe that anyone is going to switch gyms just because a competitor opened up a few days/weeks earlier. Stu pleads with us that we open when we're ready, not because we're afraid.
Takeaway: Reopen when you're ready, not because you're afraid that other gyms will poach your members if they open their doors first.
Cleaning Supplies And Cleaning Protocols
Gone are the days (or at least, they should be, Stu says), where your member's teenage kid makes up the janitorial staff at your gym. Commercial cleaning services are going to be "much more normal" in boutique gyms.
Stu thinks that this is not only the right move for safety purposes, but also for your brand. You need to show your members that your former cleaning protocols have been thrown out the window, and that they can now expect a much more rigorous approach to gym cleaning.
Stu also wants gym owners to ask themselves if they have enough cleaning supplies to reopen. (He thinks that answer is probably "we don't" for many owners.)
Side note: He anticipates his cleaning supply bill to be 3x what it was pre-Covid.
Takeaway: Show your members all the new things you're doing to keep the gym more clean and sanitary than ever before. This might include hiring a commercial cleaning service.
It's The "Wild Wild West"
Jason and Stu both believe wholeheartedly that prior to reopening, you should change ANYTHING you've ever wanted to change about your business. Jason says that "for us, in our business, it's like the wild wild west. Anything we wanted to do, we're just doing. Oh! We're adding class reservations? Of course! We're removing this class and adding this class? Of course! We're able to do the things we were thinking about doing for a long time."
Stu thinks this is a perfect opportunity to rid yourself of the stuff you really didn't like, but didn't have a good enough reason to do something about prior to Covid. Now's the time, for example, to get rid of chalk, to just say no to dogs at the gym, to end the informal iPad daycare corner that popped up over time, etc. You've now got the best reason in the world to do the things you think are right for your business. Use this opportunity wisely! Make changes prior to reopening.
Takeaway: Now's the time to do all the things you've ever wanted to do in your business without anyone batting an eye. Go for it.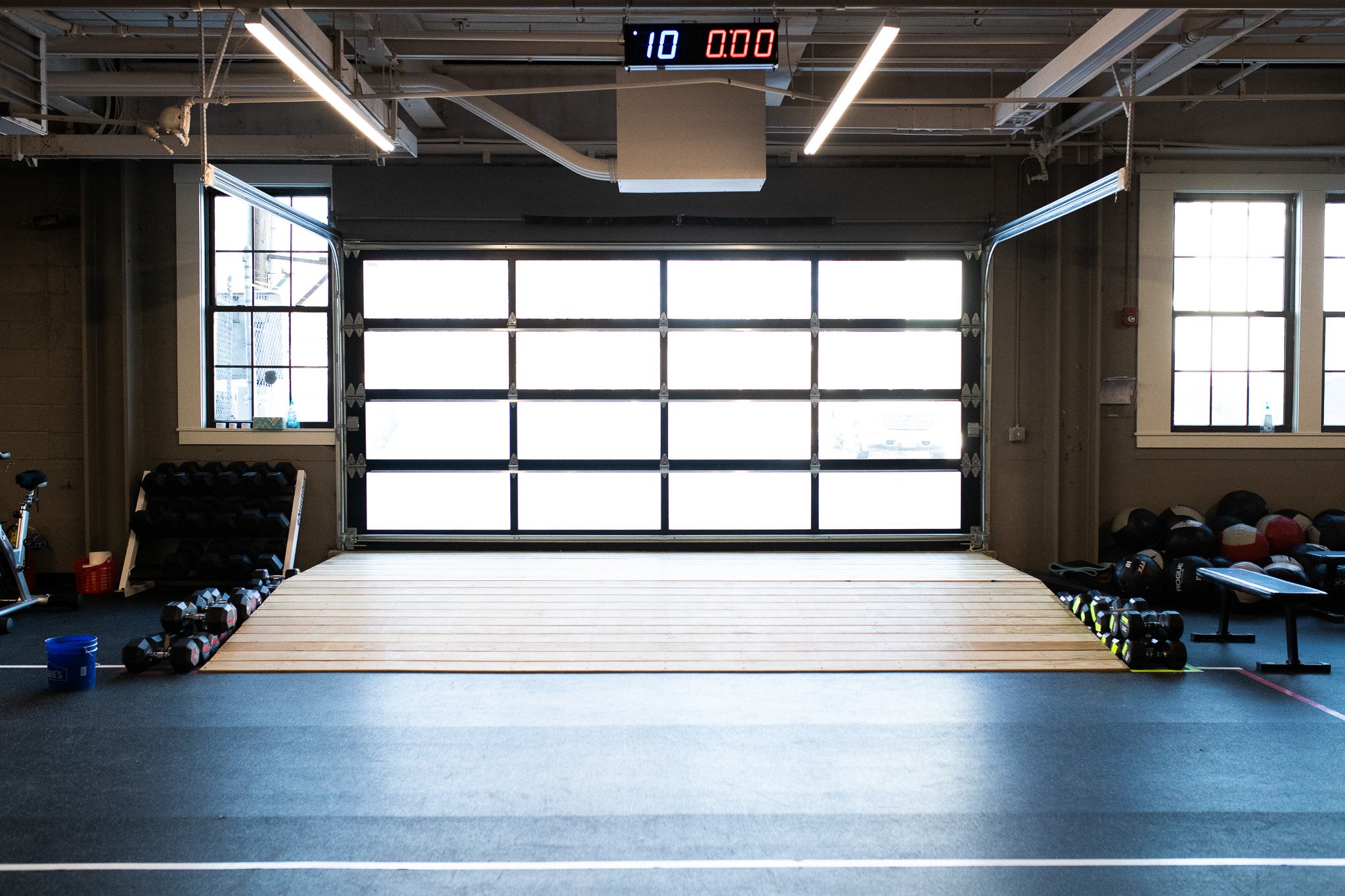 How Do You Reopen Your Gym?
Once you've decided that you should, in fact, reopen your gym, the obvious question comes up: How do I reopen given the new, dramatically different circumstances?
Phase Your Gym
Stu's gym, Urban MVMNT, will (like the government) open in planned phases:
Phase 1: Outdoors & Online
Phase 2: Limited Indoors, Outdoors, & Online
Phase 3: Indoors & Online
This phasing shows his members that he takes their safety seriously. It also allows him to approach the reopen slowly. He'll be able to tackle pitfalls in a more suitable way if he takes his time with the reopen.
Takeaway: Show your members you care about their safety by implementing phases instead of jumping right back into business as usual.
New Set-Up
With the new governmental requirements, the set-up of your gym will temporarily need to be altered. Stu reminds us that shared spaces like water fountains, pull-up rigs, and climbing ropes will need to go "offline" for a while. Find out what your specific requirements are, and start problem solving ASAP.
The good news is, Stu tells us, that while everyone's experience is going to be altered, our customers are willing to flex with us. Their entire worlds have been turned upside down, so they'll understand that they can't use the pull-up rig for a while, or that they can't climb ropes anymore:
"It's not the workout. The experience lives. The experience is what you're doing before the workout and after the workout. It's the feel of the workout. That's the thing that Covid can't take away."
Takeaway: Your communal equipment will be offline for a while—and that's okay. Spend time thinking about how you're going to set up your space so it meets your state/local government requirements.
Shifts In Programming
Jason is altering his programming at NCFIT for a while (or perhaps forever, if everyone loves it) as they ease back into opening the NCFIT gyms. It's his belief that things like high-level gymnastics and heavy snatches don't have a place in the programming right now—or at least they'll account for a much smaller percentage of NCFIT's programming.
He knows that several of the members will be coming back in a deconditioned state, and he wants them to feel successful—not deflated—upon their return.
The majority of the programming will be their "NC Strength and Conditioning," a program that's more focussed on fundamental strength and conditioning rather than high-level, competitive stuff.
Takeaway: Many of your athletes will be deconditioned when they come back. Consider doing a sort of ramp-up with your programming that gets people accustomed to the intensity again. Help them feel successful.
The Elephant In The Room
Stu poses a question to gym owners that he wants them to ponder, a question that he's pondering himself: How on earth are you going to get new clients with the new occupancy requirements?
If, say, you can only be at 25% occupancy, that means that 75% of your paying customers don't have the kind of unlimited access that they once had.
All of the sudden, you have extremely limited space for your members. And if there's already not enough room at the inn for your current folks, how do you get someone in to try a class? Will you allow prospects to occupy a coveted spot in your class, even though you have paying customers that are on a waiting list to get in?
Stu doesn't know the answer to this difficult question, but he thinks it's something we all need to figure out quickly.
Takeaway: Ask yourself this: How will I get new clients with all these new restrictions? (Hint: Most of us don't have a good answer just yet…)
Why Boutique Gyms Are Uniquely Positioned to Thrive Post-COVID
Jason believes, despite the significant challenges we're currently facing, that boutique gyms are actually in an advantageous position. He reminds us of two things that we, as small gym owners, already do that are Covid-friendly practices:
We're already used to being six feet apart. Many of us have facilities that allow for plenty of space between members. Compare that to, for instance, Soul Cycle, where members are used to being one foot away from one another.

We already tell everyone where to go and how to move. We line people up, we ask people to gather in certain areas, we break people into groups, etc. We can control the flow of our members. In big box gyms, that's not the case. People come and go as they please, which makes it more difficult to both ensure safety and ensure a quality customer experience in a post-Covid world.


Takeaway: Boutique gym business models are perfect for this post-Covid world: We already stand about six feet apart, and we already tell people where to go and how to move.
The Positives
In any difficult situation, there's always something positive that comes out of it. Here's what Stu and Jason say are the good things to come out of this global pandemic:
Boutique gyms are going to become more professional—out of necessity. They'll need to take class reservations. They'll need to hire a professional cleaning service. They'll need to initiate a cancellation policy. These small gyms will need to become massively more professional overnight, and that's a wonderful thing for our industry.

Owners get a once in a lifetime opportunity to take a close look at their business model and make any changes they need to without significant risk. The whole world has changed, and your business can change, too.

Gyms have an entirely new revenue stream: online coaching and programming.

Some gyms, unfortunately, won't make it through this. That means that there are incredibly talented and qualified coaches/staff members that will be available soon. You might have an opportunity to hire a top-notch employee that you never would have been able to hire before. a micro-problem that people are facing right now—in question form.
Takeaway: Yes—there are significant challenges ahead. But yes—there are amazing opportunities ahead too.
This Isn't The End
Jason and Stu both believe that this isn't the end for boutique gym businesses. And yes, while the landscape will look and feel different, they both think there are tons of new opportunities waiting for gym owners. With bravery and resiliency—and a lot of problem-solving—our businesses can be better than ever.
Here's how Stu's 3-step plan looks in real time:
Step 1: Are you sitting at home with looming anxiety and a lot of energy to burn off? Are your kids having fun with their extended vacation, but you're totally burning out?
Step 2: We're currently producing tons of at-home workouts that you can do with no equipment and no experience.
Step 3: Our expert coaches will guide you from start to finish. And who knows? Maybe you'll learn something new about yourself. Or even drop 10 pounds! The possibilities are infinite…
Let's break this post down into the 3 components that Stu maps out:
Step 1
Identify a micro-problem people are facing—in question form
Are you sitting at home with looming anxiety and a lot of energy to burn off? Are your kids having fun with their extended vacation, but you're totally burning out?
The micro-problem that Stu identifies here is that folks are currently highly anxious, totally burnt out, and filled with negative energy that can't be released. But he doesn't tell them that that's what they're feeling—he asks them if that's how they're feeling. He leaves room for people to respond, for people to answer, for people to vent. If you ask a question, Stu contends, your post will be significantly more engaging.
Step 2
Solve the problem that you identified
We're currently producing tons of at-home workouts that you can do with no equipment and no experience. Our expert coaches will guide you from start to finish.
Tell the prospective members out there what you're doing to solve for this difficult problem. Show them that you have a solution, that your gym could be the answer to their current struggles.
Step 3
Provide the reader with a successful ending
And who knows? Maybe you'll learn something new about yourself. Or even drop 10 pounds! The possibilities are infinite…
Now, more than ever, we need to give people hope. And as gym owners, we're in the unique position to provide a service that will genuinely improve people's current circumstances—some of which are really challenging. So in the final lines of your post, GIVE THEM HOPE! Show them that your program has the power to make a significant, positive impact in their lives—because it does.
To see Stu talk about this game-changing 3-part copywriting hack, scroll to minute 9:30 in the video. (And don't be surprised if you end up watching the whole damn webinar! It's really good.)
---
If you're serious about making some huge improvements in your member retention, check out A Gym Owner's Guide to Member Retention. This ultimate guide will show you, step by step, how to delight your current members and unlock sustainable growth for your business.


Want to see how TRIIB can help you run your business? Book a demo.

Submit a Comment
Your email address will not be published. Required fields are marked *