Gym and studio owners who rely on in-person fitness offerings will be impacted by coronavirus. There's a growing sense of urgency for business owners to be prepared as the virus continues to spread, more especially now since Italy just forced all gyms to flat out CLOSE until early April.
While most can agree that panicking solves nothing, gathering knowledge and taking precautions now for both your members and your fitness business, will prove beyond wise in the coming weeks.
The focus for most gyms right now is:
We dive into both of these and how you can best prepare, below.
Putting health and safety first is paramount for all gyms and, in many cases, is not completely unlike what you're likely doing already. That's good and bad, here's why:
Since your business revolves around full days where lots of heavy-breathing and sweating are done in close quarters, you're cleaning policy already will be in better shape then almost all other small businesses.
This also means the bar is raised higher for cleaning going forward.
Let's address that.
Here's a quick explanation of what gyms need to know about Coronavirus and what it is.
What is Coronavirus?
Coronavirus, aka "COVID-19," is believed to spread by inhaling germs from an infected persons sneeze or cough, or from touching an infected surface and then touching your eyes, nose or mouth.

At time of writing, here are the fast facts (data from the World Health Organization):
More than 130,000 cases in 88 countries around the globe

In the USA, at least 1600 confirmed cases & 41 deaths in 42 states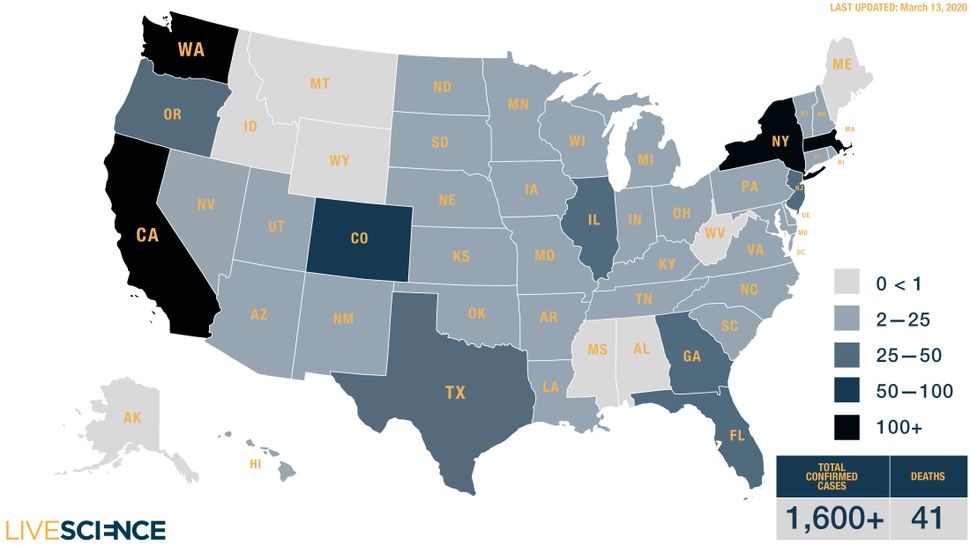 See the state by state breakdown here.
While some may say the media storm around the virus is overblown, is this really something you want to risk your members health and your businesses financial future on?
We certainly wouldn't.
Here's some recommended steps to keep your fitness community safe and protect your business.
5 Steps To Protect Your Gym or Studio From Coronavirus

1

.

Wipe down equipment after every class/session.
You're likely already doing this daily on most equipment or weekly on the lesser used pieces. We'd recommend up-ing the game a bit and cleaning used equipment.
Your staff's responsibility here is ensuring it gets done, but not necessarily doing it themselves.
Have members lead this effort prior to helping put away equipment. It's unlikely they'll need to be asked twice.
2.
W
ash hands

before & after every class/session.
This is a no brainer yet can get pushed aside because of the 'inconvenience'. Starbucks is cleaning 'high touch point' parts of their stores every 8 minutes , with employees washing their hands every 30 minutes.
Standardize this approach in your gym for the next month (or until further notice) and encourage members to follow the class leader.
Structure it around the class starting and ending.
3. Limit touching of all kinds.
No handshakes
or high fives.
The average person touches their face 23 times per hour. That's harder than you think to prevent.
Especially when you consider, wiping sweat from your forehead or nose. The point here is to raise the awareness of everyone in the facility. Include this temporary rule adjustment on a flyer you can grab in #5.
Simply washing hands frequently and calling out the 'no high fives' rule will help limit potential risks.
4.

Be thoughtful

with equipment & workouts.
Taking the class outside might seem like a good idea for some, unless it's cold out and going to make everyone's nose run like crazy. Consider bodyweight workouts with low equipment involvement or movements that will allow each member to use their own without sharing.
In general, there's good news about gyms and coronavirus:
Virologists have publicly stated that "There's no need to avoid the gym if you're worried about the spread of coronavirus".
It's because of gyms following the above measures, that this will hold true.
5. Be as
transparent

as possible & stay aware

Transparency wins, always.

Since we're a gym growth platform, we've had the amazing opportunity to work with and see how over 1,000+ gyms & studios are growing and communicating with their members.
Stay Aware
We've already seen some customers experience scares and others close temporarily.
At one customer's gym, a spouse of a member is currently being tested for COVID-19 and they closed the gym for two days while test results are being determined.
What To Do:
ASK members to report if they have encountered any health concerns at the house or place of work.
These are the situations you want to be cognizant of and report to your community on.
Stay transparent and encourage anyone with a reason to question their health to stay home.
Even if your personal opinion is 'this isn't a big deal', it's on your members minds. Remind them that health is broader than just fitness and your business is addressing both.
Here's how you can do that.
Onto the business-side of things.
4 Business Strategies For How Your Gym or Studio Can Prepare for Coronavirus

Gym's and studio owners preparing for coronavirus should lean into member engagement more than ever. If you are forced to close for any amount of time, it's entirely likely that members will ask for membership holds, refunds, or in worst case scenarios, cancel their membership.
Health comes first but we can probably agree, that's what we want to avoid.
Engaging your fitness community is the best use of your time as concerns swirl and more and more folks consider avoiding public areas.
1. Optimize your
class schedule.
What are your least attended classes? Take the bottom 20% and remove them from your schedule. The goal is not to drastically increase class sizes, but rather limit the amount of time groups are together.
As an ancillary benefit, it helps reduce the cleaning frequency and limits staff overhead costs with low or negative ROI class times.
This is just as much a math strategy as it is a safety measure.
2. Growth-hack

remote fitness

classes
This is our favorite strategy. Think about how an impending challenge with gyms and coronavirus fears now can actually HELP you grow later. This is a testing ground for some true scrappy innovation.
A great example is leveraging your gyms mobile app to run communicate video content, instructional videos or simply weekly shoutouts to members. (You can do this with the Triib Mobile App for gyms, but there are other free services out there if you wanted to test out the idea before upgrading.)
The following approaches are completely FREE.
On Facebook Live
A simple smart phone is all you need!
If you run a facebook group, go live every day at the same times - 2x a day - beginning immediately. The benefit here is it's accessible to any members with facebook, which is ideally 90%+ of your community.
Set it up
Add a 'remote class' to your schedule with class cap limit of 500. Let people 'check-in' to participate but have that class be conducted live online.

Using Triib, you can Email or post the workout onto the mobile app in advance for all the participants to prepare for.

When it comes to class time, simply instruct users to go onto Facebook. (FB will also notify all members of the group automatically!)
On Google Hangouts
The big benefit with Hangouts is that it's interactive.
Everyone can see and communicate via live video with everyone. Facebook Live is only one way - viewers can see you but you can't see them. The downside with hangouts is it's not super compatible with any non-gmail email addresses.
Set it up
Add a 'remote class' to your schedule with class cap limit of 500. Let people 'check-in' to participate but have that class be conducted live online.

Using Triib, you can Email or post the workout onto the mobile app in advance for all the participants to prepare for.

Make sure users have the Google Hangout links shared to them in advance!

3. Double-down on
member initiatives & communications
Running an online challenge is an amazing way to keep members engaged and allow them to complete workouts at home or away from the gym. In Triib, online challenges can be a multi-workout, multi-week challenges or competitions with lots of customizations.
This initiative is great because it rallies your membership around a common purpose and, most importantly, keeps them engaged.
It can also be flexible. Report on nutrition, sleep, water intake, or even hand-washing!
Get creative.
Being able to adapt during such a cautionary time is imperative for any gym or studio. The coronavirus is not going to fall out of the collective public news cycle for quite some time. For the businesses that prepare for it now, this will be yet another test on their journey for creating a healthier community around them.
Build Your Fitness Community
Integrated emails, blogging, & online challenges are part of Triib's member engagement tools for inside and outside the gym. With everything you need in one platform, running a gym just got easier.
Click to talk to a human about how Triib can help your business.