This is a comprehensive list of FREE resources available to gym and studio owners during this critical time. It is updated constantly. If you have a great link, document, or valuable asset for the industry to use, please post it in our facebook user group for gym owners overcoming coronavirus.
Let's come together and help each other make it to the other side of this!
--Updated 4/29/20--
Best Gym Help Resources
NEWS & FINANCIAL ASSISTANCE
Official World Health Organization Site (WHO)
Getting Cash For Your Gym Through the CARES Act
Key points:
Must have been open for business by January 31st, 2020
Up to 8 weeks of overhead can be forgiven (payroll, utilities, property costs/rent)
Interest rates are 3.75%
First month payment can be deferred for up to 12 months.
Learn more or Apply here: Small Business Disaster Loan Program (SBA.gov)
The Give Program - Skip the store, get great food delivered, help your local gym.
FACEBOOK STRATEGY GROUP
Join the Gym Owner's Facebook Strategy Group for Enduring & Overcoming Coronavirus.
Gyms are closing across the country, some involuntarily, and we're bringing like-minds and industry experts together to rise the tides.
BLOG ARTICLES
The Reopening Checklist from Two Brain Business
Becoming an Online Gym in a Physically Distant World
Physically Distant, Socially Engaged - How To Stay Connected To Your Members
How COVID-19 is Making You A Better Gym Owner
Virtual Programming & At Home Workouts
The Gym & Coronavirus: How Gyms Can Prepare (& Limit Financial Impact)
GYM PLATFORM TOOLS
Additionally, Triib gyms can use Challenges, Online Workout Programming, & In-App Video Content to drive member engagement during this critical time. 👇👇
Click to learn how to setup Challenges, Online Workouts + Pre-Recorded Fitness Videos in Triib!
Guides & Templates
These can save you tremendous amounts of time and communicate focused ideas quickly with tactical details and guidance. Download for free and share!
Webinars
Join industry leaders like CompTrain, NC Fit, WTF Gym Talk, & Active Life Rx to dive into key issues facing the fitness industry right now. From loans to keeping members engaged and future-planning, it's all inside!
Learn to setup, shoot, and distribute video content for your classes. We'll cover easy tips you can deploy now that can elevate your coaches & engage your members. Click the title to register.
Learn to setup, shoot, and distribute video content for your classes. We'll cover easy tips you can deploy now that can elevate your coaches & engage your members. Click the title to register.
Comprehensive look at adapting the typical CrossFit or class-based fitness to the new reality.
In-depth discussion from 1-on-1 training industry pros.
Professional Development Opportunities
The following courses and content are all FREE.
Technology For Online Workouts
Some brick & mortar gyms and studios are being forced to move faster than they were ready for due to the spread of coronavirus. It's okay!
We're working to provide the best list of tools for you to deliver virtual fitness to your members without increasing your costs during this sensitive time.
First and foremost consider a look at normally paid providers of online workout programming who may be offering promotions for new signups at low or no cost.
Want to know how to set up Online Programming on your software platform?
👉👉Click here to chat with one of our specialists!👈👈
Prerecorded - Free
Communicate instruction and the workout pointers in a prerecorded video. This doesn't mean that it MUST be more polished then a live version, but it should guarantee it's CLEAR.
Recording the instruction

Upload to YouTube or Vimeo (See: Reebok HQ Fitness)

Share the link into your Triib Mobile App (or other software) to be watched by members!
It takes only phone and internet connection to do it OK. It takes a better camera and a well lit room to do it pretty good. If you want to go more pro than that, go for it.
In Gym (and super PRO) example: Urban MVMNT
In Gym (and pretty good): Iron + Mortar
At Home (and pretty good): CrossFit Kanna
Zoom - Free
Many have gravitated towards zoom, mainly because the free account can host up to 40mins of free two-way-streaming with parties of 3 or more. The paid version is only $14.99 to get unlimited time.
Example - Shockoe Bottom Performance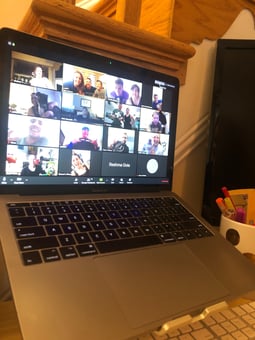 Google Hangouts - Free
Easy to implement but clunky for non-gmail account users. The streaming is two-way, meaning the member can see you and you can see them, but the email account hurdle usually leaves this option for certain communities only.
Facebook Live - Free
Easiest to navigate and get going. It's lightning fast and has fun features like emoji spamming and an organic-feeling Q & A environment. The downside? One way streaming means your audience can see you but you can not see them.
We're always adding to this list so check back soon!
Have a resource you want to be seen? Send us a note at community@triib.com
Did you know Triib has our own workout library of at home workouts? Search your Workout Library for Triib: At Home Workout and you'll be greeted with over 300+ options!

Submit a Comment
Your email address will not be published. Required fields are marked *